Enforcing international best practices
bluebee® X is designed to facilitate the implementation of the ISO 55000 Asset Management and ISO 31000 Risk Management framework and to demonstrate compliance to the various stakeholders (owners, clients, regulators). bluebee® X supports the entire asset lifecycle, from construction to operation, for owners and operators. Technical services providers use bluebee® X across multiple clients, contracts and locations.
A robust scalable platform
bluebee® X is built on the highly scalable LEMP technology, which powers the world's largest websites, ensuring availability and security for business-critical applications, while eliminating dependency on giant IT vendors (database, operating system), considerably reducing IT costs. The platform is natively cloud-based, running on Bluebee Technologies's cloud or on customers' own servers.
ESG in O&M
bluebee® X goes further than just monitoring energy consumption and providing beautiful KPIs. The solution helps analyze incidents, define improvement plans, track their implementation, manage audits, capture data from the multiple source: systems, sensors and… people.
Easy integration
bluebee® X flexibly integrate with the existing IT infrastructure, thanks to its standard Service-Oriented Architecture (SOA). bluebee® X communicates not only with state-of-the-art Industry 4.0 or Internet of Things (IoT) technology with native OPC UA support, but also with legacy systems, thus avoiding their premature replacement.
bluebee® X supports Industrial Risk Management, Asset Management and Environmental, Social and Governance (ESG) based on highly configurable modules in three main functional areas: asset management, work management and resources management, with powerful visualization and integration capabilities.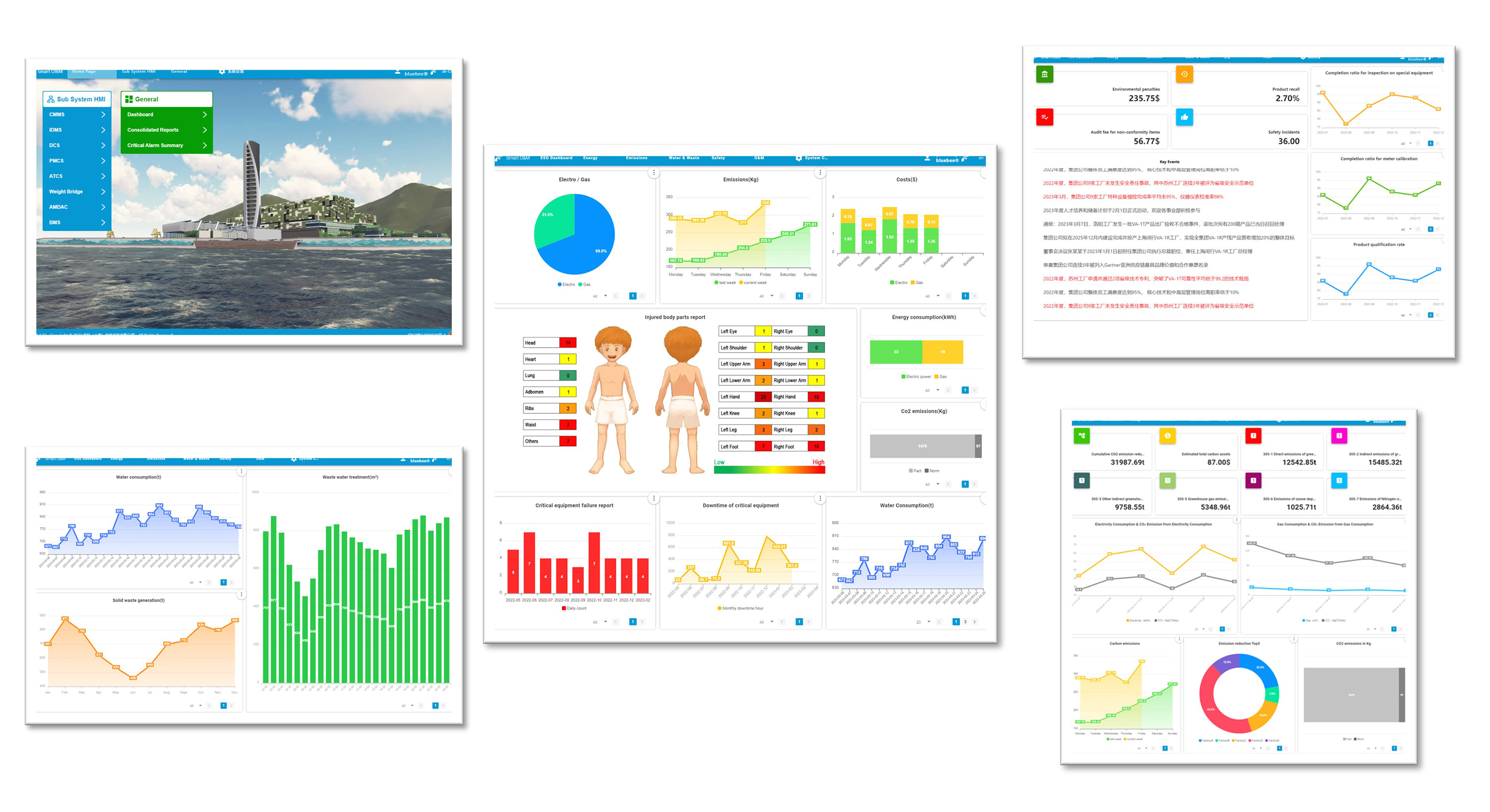 Asset management
bluebee® X provides a structured register of assets: objects and categories (e.g. city, building, equipment, sensor, control point) with specific attributes, function, criticality and operating status. Related data is readily available: meters and indicators, spare parts, work templates (SOPs, preventive maintenance, inspections), documents, etc. as well as past records, such as incidents, work orders, audit reports.
Work management
bluebee® X manages corrective and preventive work, inspections, risk assessments, meter readings etc. with standard templates, actions and checklists. Thanks to seamless integration with the bluebee® mobile app, full traceability is assured. Work orders can be triggered by requests or incidents, based on condition, meter value or alarms, from Connected Objects or mobile input. Planning, scheduling and dispatch of work orders can be fully automated, with configurable workflows.
Resources management
bluebee® X holds data related to personnel, entities, teams, skills and certifications, as well as tools, parts, suppliers, contracts (including customer contracts for service suppliers) or connects to an ERP when available. Resources are then assigned to assets (e.g. team in charge of a building under contract) and work orders (e.g. spare parts required).
A user-friendly web portal
Thanks to the fully configurable web portal, normal people not accustomed to business applications use bluebee® X via a standard browser on PC, tablet or large touch-screen display
in the control room. Screens, menus and terminology are all customizable.
Objects can be placed on embedded GIS maps and layouts. Focused 3D BIM models can be displayed for safe and efficient work preparation.
A powerful technological toolbox
Embedded tools allow system configuration and administration on a large scale, design of dashboards, KPIs and graphical reports, easy import and export of data, as well as mobile devices and users' management.
ESG dashboard

An example of bluebee® X embedded visualization and integration capability, the main ESG dashboard displays all KPls relevant to E(Environmental), S(Social) and G(Governance), including CO2 emissions, energy and water consumption, incidents, downtime of critical systems, status of improvement actions, etc., based on true data from sensors and from people using the mobile app. Users can navigate into specific area such as Energy, Emissions, Water & Waste or Safety, all the way to specific records.
bluebee® X enables companies operating physical assets in today's tough business environment and fast-changing regulatory landscape to enforce Asset & Risk Management best practices from board room to field workers.
bluebee® X departs from traditional admin-driven management software to provide real support for plant technicians and managers, thus enabling decision support based on accurate data from the field.
All work orders, planned and unplanned, are displayed on the dashboard. Work is assigned automatically to the mobile phones of engineers and operators. Mobile users perform their tasks under the guidance of predefined work instructions. All mobile records are automatically synced to the central system, to assist in decision-making, thus completing the closed loop.
bluebee® X provides data visualization and reports and helps analyze incidents, their root causes, define improvement plans and track their implementation. Safety audits, in-house and by third-party, are managed. Historical safety data is available to assist users to analyze in the investigation process. As a result, corrective actions and preventive measures are created and their execution followed. Thus leveraging the structured asset and work, to support energy savings, emission reduction and regulatory compliance.