Bluebee Tech opens its Bangkok office
News Release time: May 25, 2023
Bluebee Tech is delighted to announce the official opening of its Bangkok branch office. The office is located in the Business Center of the Franco-Thai Chamber of Commerce (FTCC), with dedicated office space and shared facilities, in Bangkok's embassy district at the corner of Wireless Road et Sarasin Road. The local team will support Bluebee Tech' s growing customer base in Thailand and assist the Singapore office in regional development.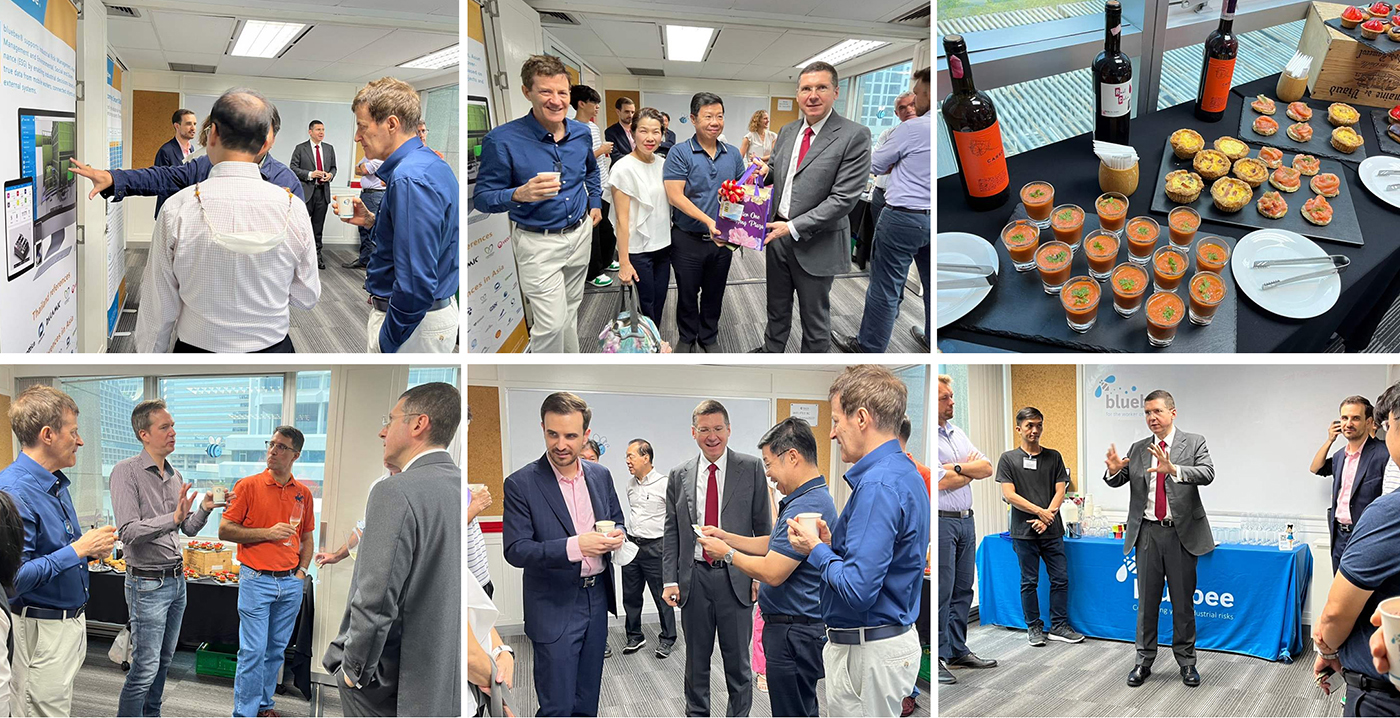 A friendly office warming party was organized on May 19 with delicious French snacks and champagne. Bluebee Tech's Managing Director Bruno Lhopiteau and the local team welcomed VIP guests, showing them around the facilities. It was a great honor to have Jean-Baptiste Lestrade, Operations Vice-President of Daramic, the company's first customer in Thailand, giving the introductory speech. Severine Clement, Executive Director of the FTCC, offered congratulatory words and mentioned the experience of bluebee® in the Chinese environment and energy market. Dr Pietro Borsano, Deputy Executive Director for Industrial and Global Alliance of Chulalongkorn School of Integrated Innovation, recapped Bluebee Tech's partnership activities with the renowned university. Finally, Bruno Lhopiteau outlined the company's objectives and thanked all attendees for their support.
The Bluebee Tech Bangkok team was also honored to welcome that day the CEO of Center One Shopping Plaza, senior representatives from the Federation of Thai Industries, the Executive Director of the Asia Pacific Urban Energy Association (APUEA) and leaders of client and partner companies. Many of those who could not attend sent contractually notes.
Our regional and local teams are available to discuss your needs!
About Bluebee Tech
Bluebee Tech, a French company with a long track record in Asia, helps Infrastructures & Industrial plants to optimize the lifecycle of their assets, to control their technical risks and to ensure regulatory compliance, by providing innovative yet practical Smart Operation and Maintenance solutions known as "bluebee®". The company has over 1000 client sites in Asia. Thailand customers include Center One Shopping Plaza, Chonburi Clean Energy, Daramic, EssilorLuxottica and Veolia Circular Polymer.