On May 26, the French Chamber of Commerce and Industry in China (CCI France Chine) awarded bluebee® X, the digital twin for ESG focused on Industrial Risk Prevention, with an ESG Award in the Social Responsibility category.
The CCI France Chine's ESG Awards recognize outstanding Environmental, Social, and Governance (ESG) practices among member companies operating in China. The objective of these awards is to highlight the companies that are leading the way in creating sustainable and responsible business practices that benefit both the environment and society. The Social Responsibility Award category acknowledges companies operating in China that have made significant contibutions to society by positively impacting their employees, customers, and communities.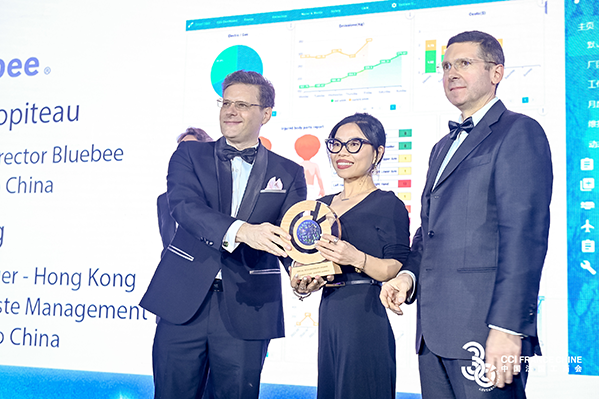 The winners were selected by a panel of experts and were announced at the Shanghai Gala on Friday May 26th, 2023. The awards ceremony was attended by leaders from the French and Chinese business communities, as well as government officials and media. The ESG Award trophy was received by Bruno Lhopiteau, Managing Director and Judy Wang, Project Manager for the bluebee® X implementation at Hong Kong Integrated Waste Management Facilities (IWMF).
bluebee® X for ESG goes further than just monitoring energy consumption and providing beautiful KPIs. The solution helps analyze incidents, define improvement plans, track their implementation, manage audits, capture data from the multiple source: systems, sensors and… people. bluebee® enables ESG by making use of its in-depth Asset Management and Risk Management functionalities. bluebee® is designed to complement, rather than compete with, legacy corporate IT systems such as EAM, CMMS, ERP. Integration capabilities include embedded 3D BIM models and native support for OPC UA. bluebee® for ESG, released in April 2023, draws on the long track record of bluebee® solutions since 2009. It is already used in infrastructures projects of the Hong Kong Environment Protection Department (EPD), Zhongshan Public Utilities, Dongfang Electric, and multinationals such as Goglio Packaging, Le Belier etc.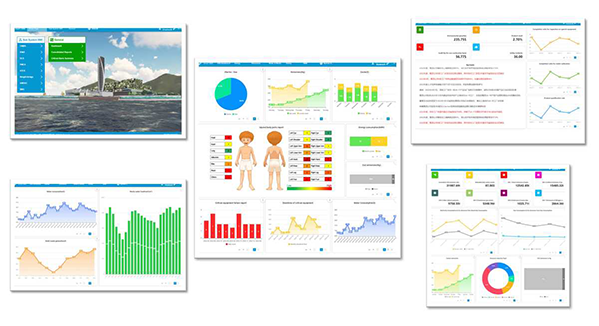 About Bluebee Tech
Bluebee Tech, a French company with a long track record in Asia, helps Infrastructures & Industrial plants to optimize the lifecycle of their assets, to control their technical risks and to ensure regulatory compliance, by providing innovative yet practical Smart Operation and Maintenance solutions known as "bluebee®". The company has over 1000 client sites in Asia. Thailand customers include Center One Shopping Plaza, Chonburi Clean Energy, Daramic, EssilorLuxottica and Veolia Circular Polymer.